How did you get into racing and how many years have you been on the team?
I moved to Kalamazoo a few years ago and didn't know anyone in the area. I found a few local rides and before I knew it, I was hooked! I'm new to the team, but can't wait to try out this whole racing thing!

What disciplines of racing do you participate in?
Currently I race road and and mountain bikes

What personal goals are you setting for yourself for the 2016 season?
I'm hoping to do more races this year and be able to hold my own in the pack.



Powered by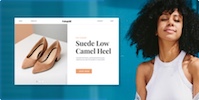 Create your own unique website with customizable templates.