How did you get into racing and how many years have you been on the team?
I have been racing for 7 years and this is my 4th year with Team Clark Logic racing. I started getting into racing with some girlfriends just shortly after having my daughter. At first it was a fun recreational activity that eventually turned into something more competitive which lead to me opening my business Infinity Cycling. I enjoy the thrill of competition and setting personal goals for each race. I think it's what keeps me feeling young.
What disciplines of racing do you participate in and what are some highlights from your career?
I currently compete in mountain, cyclocross, criterium, road and gravel road races. I have also participated in charity rides such as Bikers for Babies, Tour de Taylor, Obliteride and the 300 mile Wish A Mile tour.
Some of the achievements that I'm most proud of are:
2013 Iceman Finish
2013 2nd Place Arcadia Grit and Gravel
2015 2nd Place - Age Group - Barry Roubaix 24 Mile
2015 4th Place Overall - Barry Roubaix 24 Mile
2015 2nd Place - Women's Fat Bike - Peak 2 Peak
2016 2nd Place - Women's State Championship Road Race
2016 2nd Place - Women's Fat Bike - Peak 2 Peak
2017 2nd Place - Women's Mountain Bike Bike and Brew race
What personal goals are you setting for yourself for the 2018 season?
My personal goals are to keep riding and keep growing in the sport. - be a good role model for my daughter and show her that age is only a number.
Powered by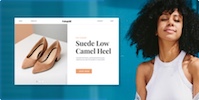 Create your own unique website with customizable templates.